ADA
The Cardano price has surged by 30% on the week as the ADA coin now trades at number three in the list of coins. The project now has a valuation of $40 billion and is sandwiched between Ethereum and Binance Coin, with market caps of $175bn and $39bn respectively.
ADA has been rising as the Cardano developers continue to upgrade the blockchain to a system that founder Charles Hoskinson has said will "kick Ethereum's ass". 
The price of ADA saw a new record high above the $1.40 level and the coin has pulled back to the $1.27 area. The price of ETH is far away but the circulating supply in both coins is very different. Ethereum has a 117 million coin supply, while Cardano has a supply of almost 32 billion coins.
The latest surge capped a very strong February performance for the coin and was driven by a Twitter announcement from the founder that another milestone in the Goguen upgrade had been completed. Hoskinson said:
WE'RE ON!! We can today confirm that the 'Mary' #Cardano protocol update is now fully confirmed for March 1st. Another key milestone in the #Goguen rollout, the update introduces native tokens & multi-asset support, bringing exciting new use cases for #Cardano.
The latest update will allow Cardano to support fiat-pegged stablecoins and let users create non-fungible tokens (NFTs), which is a booming space in the crypto world. NFTs can prove the authenticity of items and the art world is starting to embrace the movement with digital art going for millions.
ADA will look to get back above the $1.40 resistance and try to gain further ground on ETH. This will likely depend on Bitcoin's ability to see new highs after the coin extended its pullback to lows near $43k. The coin has since bounced back above the $48k level as dip buyers move in.
ETH
Ethereum is also looking to bounce from the recent market selling as Gas prices have plummeted on the network. 
Gas fees have fallen from highs around $38 last week to around $12 now, for a 70% reduction. Transaction fees are a big obstacle for ETH and it is an area that the development team is focused on fixing in the latest V2.0 upgrade. Network clog is a burden for developers and traders and Ethereum founder Vitalik Buterin has released a new improvement proposal named EIP-3298 last week. The move suggests removing gas refunds tied to the "self-destruct" function in Ethereum's London update. EIP-3298 is scheduled for the second quarter of Q2 2021. If it is successful then it could help Ethereum to regain market share that has been lost to DeFi competitors such as Binance Smart Chain (BSC). Developers started looking further afield after gas prices rose in summer 2020 when the DeFi boom began.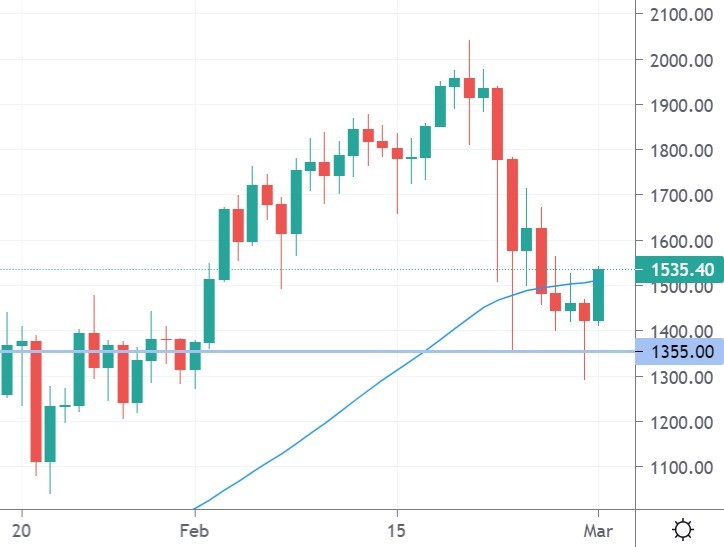 Ethereum now trades at $1,535 after finding support at the February lows near $1,350. The coin will now seek to move higher with the recent all-time highs at $2,000 being the ideal target for ETH.
SOL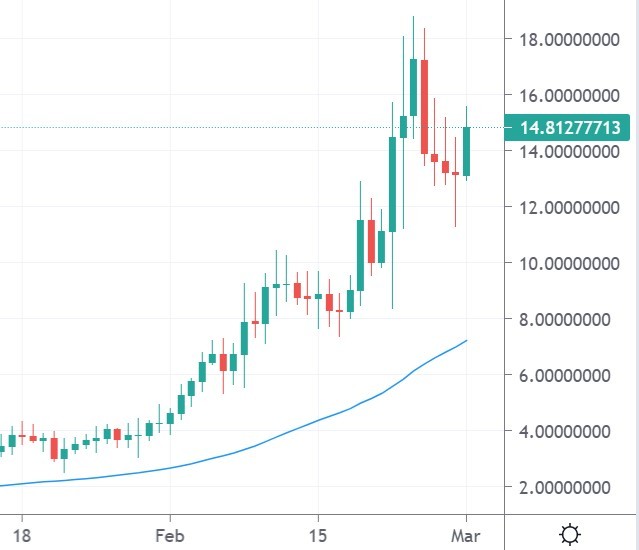 Solana was another coin seeing big gains in February and the coin has seen a high at $18.00 before the recent selling. Price has since rebounded to test the $15.00 level again.
One of the big drivers for the coin this year was the move by Binance to accept SOL coins for staking. Binance investors can now lock up their Solana tokens in order to receive staking rewards of 43% per year, but there is a catch. The maximum allowable staked amount is just 20 SOL ($300), which means users would earn a maximum of around $140 for the year.
The Solana project is a high-speed blockchain that boasts speeds of up to 65,000 transactions per second. Validators help to keep the network running and are given SOL tokens for their work.
Another boost to the Solana ecosystem was the decentralized exchange (Dex) 'Raydium'. The exchange is looking at integrating SushiSwap. A post in a SushiSwap forum talked about Solana was designed to solve the gas fee issue. 
Sam Bankman-Fried, who stepped into Sushi after controversy over the founder selling his stake, said of Raydium:
Integrating SushiSwap would help bring users and Sushi airdrops over to [Raydium], and would help bring fast and cheap transactions, liquidity, and fees back to SushiSwap.
Another new DeFi platform announced its integration with Solana in Parsiq. The project introduced 'Smart Triggers' to the crypto world, which allow real-time on-chain events to trigger off-chain actions. These give developers the technology to automate workflows and interact with real-world applications.
Solana trades with a market cap of $3.9 billion and stands at number 19 in the list of coins.
FTM
Fantom was the strongest mover on the week with the FTM token up almost 70%.
Dallas Mavericks owner and crypto enthusiast Mark Cuban has given his support for Fantom in an interview with Binance founder Changpeng Zhao. Cuban said that he owns DeFi projects in his portfolio, with one of them being FTM, which is the latest coin to be called the "Ethereum Killer". Cuban said he was also an investor in Injective Protocol (INJ) and Polygon (MATIC).
Fantom provides a development space for programmers to build decentralized applications (dApps) and the team is proposing a system that can offer lower fees than Ethereum. Ethereum is at risk of losing further market share to these projects if it cannot rectify the gas issue quickly.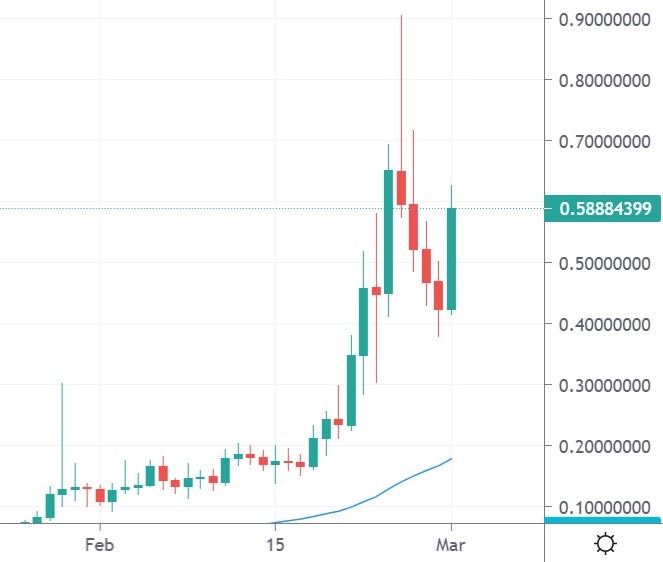 FTM has bounced from yesterday's low at the $0.400 level and the coin is now trading at $0.588 with the recent flash high sitting at $0.900.