BTC
Bitcoin rallied back above the $50k level as the US Senate approved another stimulus package for the US economy. President Biden's latest US$1.9 trillion deal will now head back to the House for amendments before it is approved.
The market has been eagerly anticipating another stimulus bill after the cryptocurrency market benefited from the first bill. US citizens were given stimulus checks as part of the bill and for many, those checks went into the crypto and stock markets. The flood of new volume led to Bitcoin's meteoric rise in the second half of summer of 2020, as the coin pushed through stubborn resistance at the $10,000 level. BTC then started its journey to all-time highs around $56k.
A survey by Deutsche Bank said,
Half of 25- to 34-year-olds plan to spend 50% of their stimulus checks on stocks.
There is still some risk for BTC and other risk-related assets as bond yields move higher on Monday. Stock markets and gold have been rattled by the rise in treasury bond yields as they nudge 1.6% on Monday. Higher bond yields mean higher government budgets and with nations holding record debt levels, the Federal Reserve will be watching closely. We may see another bout of central bank bond-buying and the European Central Bank will meet on Thursday this week. The banks will keep adding further stimulus to the market, but artificially inflating asset prices would make them prone to volatility when bearish corrections come along.
Bitcoin has seen further corporate last week as Norway's Aker announced it was establishing a BTC entity. "Seetee" is dedicated to investing in blockchain projects and companies the fund will keep all of its NOK500 million (US$58m) investable assets in bitcoin. The initial sum is small but there is potential for additional corporates to follow them, while any investments could be resold at higher valuations.
A press release said:
Seetee will initially focus on 1) investing in and owning bitcoin, 2) joining the Bitcoin and broader blockchain community and establishing partnerships with leading players, 3) launching Bitcoin verification operations, and 4) building and investing in innovation projects and companies in the Bitcoin and blockchain ecosystem.
Aker is a holding company with 26k employees and has interests in fishing, construction, and engineering. The company has made moves into software in the last decade and is targeting ideas that can be adopted in people's daily lives. The company was upbeat about Bitcoin's direction, saying:
With the launch of Seetee, the Aker Group makes another move into software and fintech. We are very excited about the industrial opportunities that will be unlocked by Bitcoin and blockchain technology, and want to contribute forcefully to that effort. These technologies have the potential to reduce frictions in our day to day lives, enhance the security of our digitally driven economies, and unlock new business models for innovation.
BTC is looking to hold onto the $50,000 level, with the stock market swinging from losses to gains. The largest cryptocurrency saw a low near $949,300 but has bounced to hold the big price level. 
BNT
Bancor was strong last week with a gain of 60% for the coin which is growing its Decentralized Finance (DeFi) platform.  
The Bancor project expanded into DeFi with the creation of its staking platform, which now sees 58% of the project's 150 million BNT coins currently staked on the platform. Total liquidity is $1.5bn and the most common pool is LINK/BNT with $350 million of liquidity. The reward for BNT staking in this pool is a 70% APR. Bancor is currently working on a "Top Secret Pool Design" and updated on the platform's growth, saying:
Since the launch of Bancor v2.1, the TVL in the protocol and monthly swap volume has surged over 2000 and 1500 percent, respectively.
Bancor was boosted lately after a New York District Court Judge recently ruled in favor of the project in a lawsuit that has been looming since April 2020. Judge Alvin Hellerstein granted a motion to dismiss a lawsuit that alleged unregistered securities offerings worth $153 million. The case was related to a Singaporean exchange and Bancor is incorporated in Switzerland, so the case was thrown out regarding jurisdiction and may return later. 
The project's operations have been unaffected by the lawsuit in question with data from Crypto Fees, showing Bancor is the sixth-largest crypto-project by daily protocol revenue. The platform is positioned higher than big-name DeFi projects such as Aave, Synthetix, Uniswap V1, and 0x.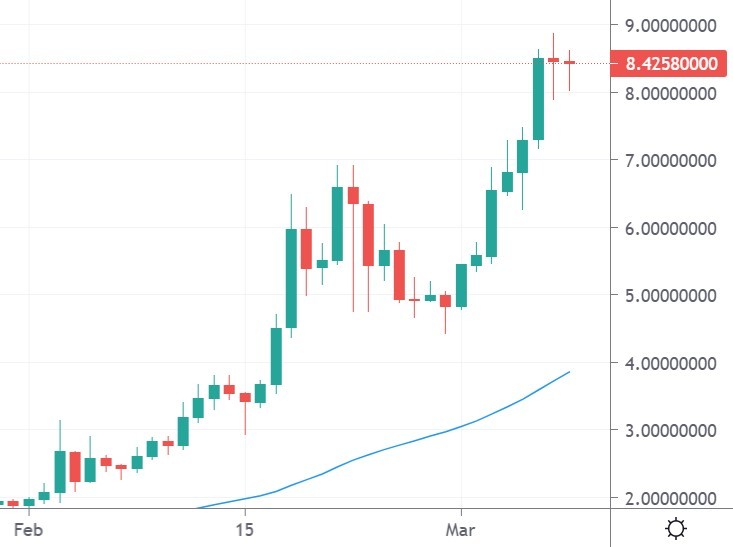 BNT now trades at $8.50 after starting the year at $2.00, with a rise in the project's market cap to $1.2 billion.
CHZ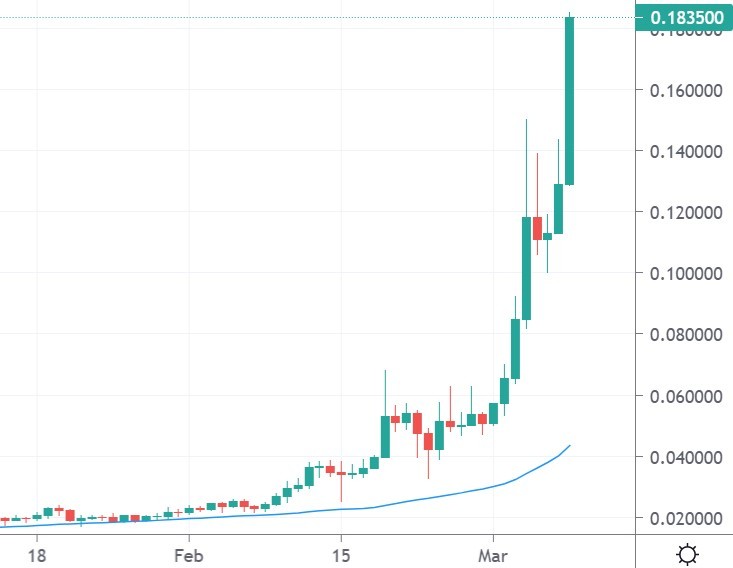 Chiliz was the top-performing coin on the week with a surge of 200% for the soccer fan coin. The latest move marks a stunning 2021 move from $0.02 to $0.183. The Chiliz project now has a market cap of $1 billion and ranks at number 75 in the overall coins list.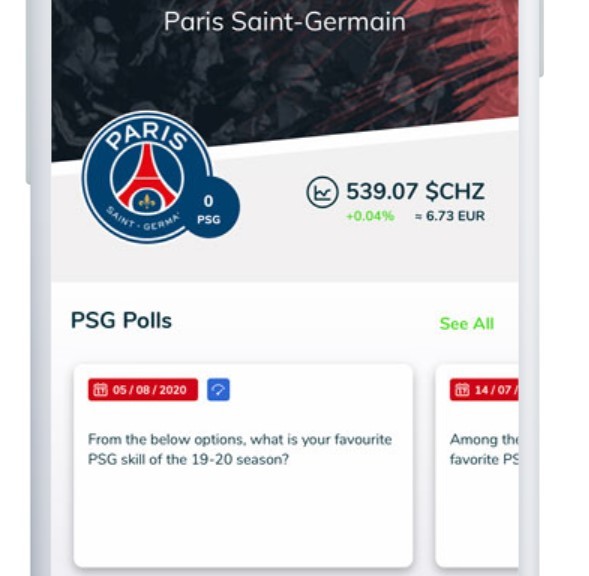 The Socios.com fan engagement platform was built on the Chiliz blockchain and it uses the CHZ token as its on-platform currency. Socios.com allows fans to buy branded Fan Tokens from some of the biggest soccer teams in the world including FC Barcelona, Juventus, and Paris Saint-Germain. The coin has seen a surge in value as the cryptocurrency market gains more attention and demand for collectibles is rising. 
Big money is being spent in the NFT art marketplace, while the Dallas Mavericks basketball team announced that they would be using Dogecoin for merchandise and ticket purchases. 
ENJ
ENJ has been another strong performer this year with a move from $0.08 to the current highs around $1.80.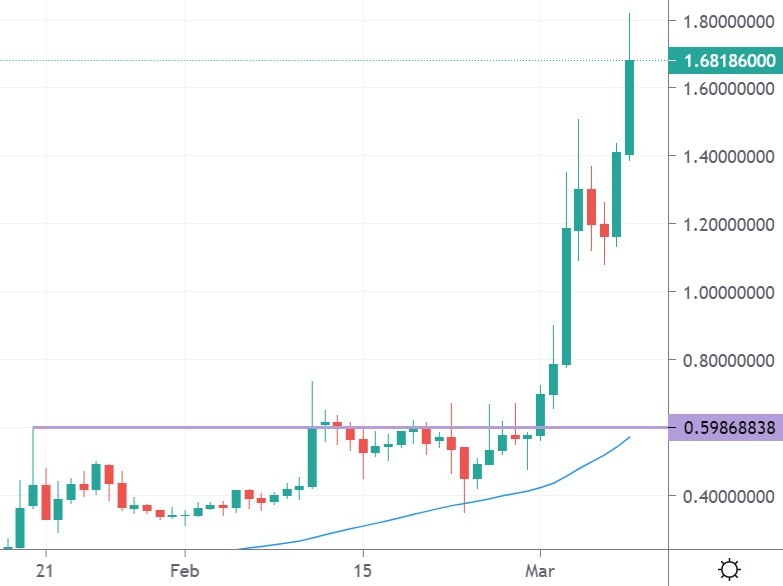 The recent growth in ENJ has come after the release of JumpNet, which promises "Forever-free Ethereum Scaling". The scalability of ETH has been one of its detractors as the gas price fees for using the ETH chain can get high. 
Enjin talked of the need for solutions and said: 
Therefore, we have expanded Efinity's scope to support tokens from any blockchain network, both existing and upcoming. A decentralized blockchain, Efinity will enable users, developers, and enterprises to harness NFTs and next-generation token features with zero friction.
The move is coming at the right time for Enjin as the NFT marketplace goes through a bull market.
The Ethereum solution JumpNet will launch on April 6th and will be a "private version of the Ethereum blockchain," enabling instant, secure, and gasless on-chain transactions. The move should see ENJ grow in popularity and the coin is moving higher as a result, with the project now seeing a market cap value of $1.3 billion.